Hello darling blog babies.
I took a short vacation from the internetz and this blog to travel to the central valley area with my mom. I went to go visit my Aunty Linda, she had her last chemotherapy session this week, and despite all she's been through I think she's doing fantastic. Please keep her in your throughts and prayers!
I also got some time in Fresno to go thrifting. Some people are such snobs about buying second hand, but I have found some really fantastic things, like these boots: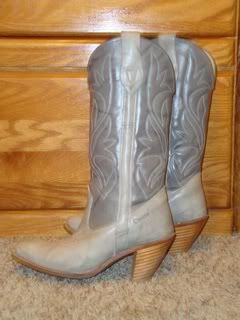 Those are genuine Capezio boots, and for those of you who dont know, Capezios usually go for 150 dollars or more, and I got these puppies for 10 dollars! I had never seen a grey pair before, and plus they're practically brand new, not even the bottoms were scuffed. All I need to do is shine them up and they'll be ready to go!
God, my mom severely burned some toast this morning and now the whole house smells like burned toast. In fact I think I even smell like burned toast. I know I have this whole philosphy that maybe men would be more attacted to me if I smelled like a steak or something, but burned toast? Come on, no one likes burned food.
So anywayz, I know this isn't a music blog, but given that music is a huge part of my life I gotta talk about it sometimes. Recently I downloaded the album 'Embryonic' by The Flaming Lips and was quite taken by it. I had heard good things about the Flaming Lips for a long time but for some reason never bothered to check them out.
Here's the video for their song 'Watching the Planets'. Its very strange and very NSFW since there's tons of nakedness going on. (NOTE: Theres a weird ad about not doing coke before the video actually starts, but bear with me.)
Even the front man Wayne Coyne gets naked. Which I dont really mind because he's on my sexy older men list along with Daniel Day-Lewis and the likes.
And just for the hell of it, heres another video from the Embyonic album called 'I can Be a Frog', which features the always awesome Karen O contributing animal sounds for the track. The video is pretty simple, and aint no naked people on bicycles army, but its a good way to spend a few minutes of your time on a Saturday.
Tonight Im going to my favorite movie theater in the world, The Rialto, to go see 'The Lovely Bones', and Im pretty excited. Hope it doesnt let me down like 'Nine' did :( Dont worry DDL, I still love you.
Also, I dont think I can finish this post without saying something about the recent earthquake disaster in Haiti. If you're looking to donate, a quick and easy way to do it is to text the word 'Haiti' to 90999. Its a legit $10 donation to the Red Cross that is added to your phone bill. Do it, they need all the help they can get!
-Caitlin